PROJECT: Rozen Maiden Träumend (complete)
05-08-2008, 09:35 PM
(This post was last modified: 25-06-2009 07:06 PM by Rockman-X.)
Rockman-X
One does not simply encode into 1080p.


Posts: 23
Joined: Aug 2008

PROJECT: Rozen Maiden Träumend (complete)
Rozen Maiden Träumend
AniDB
Video:
x264 @ 712x480 anamorphic @16/9 AR, VFR, not hardsubbed.
Audio:
Vorbis @ Q 3.0 (~112kbit), 2 channels
Source:
DVD R2 (Japan)
Languages:
Japanese audio, English subs. Episodes 1~7 By Manhole-Desu, 8~12 by Ayu.
Subtitles:
.ASS with softsubbed Karaoke
Screenshots
(on PNG format):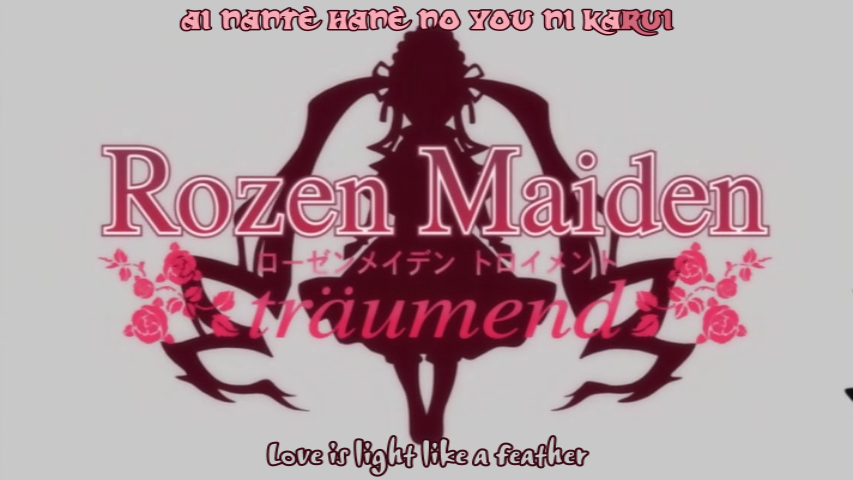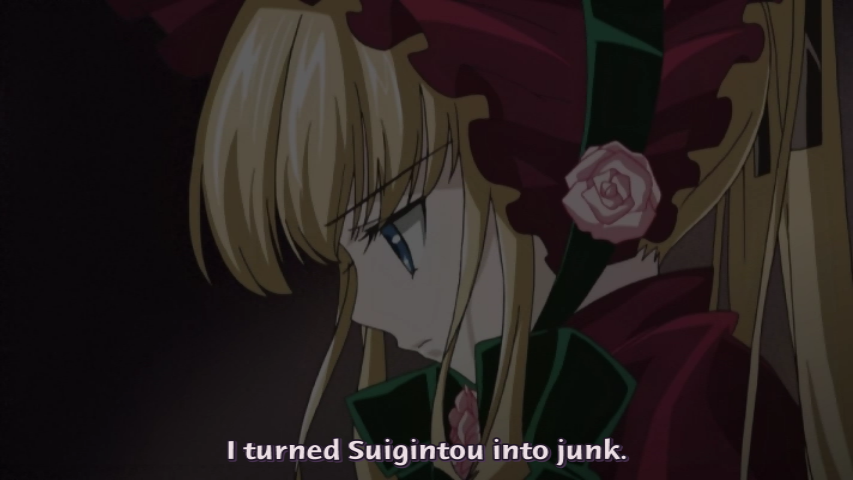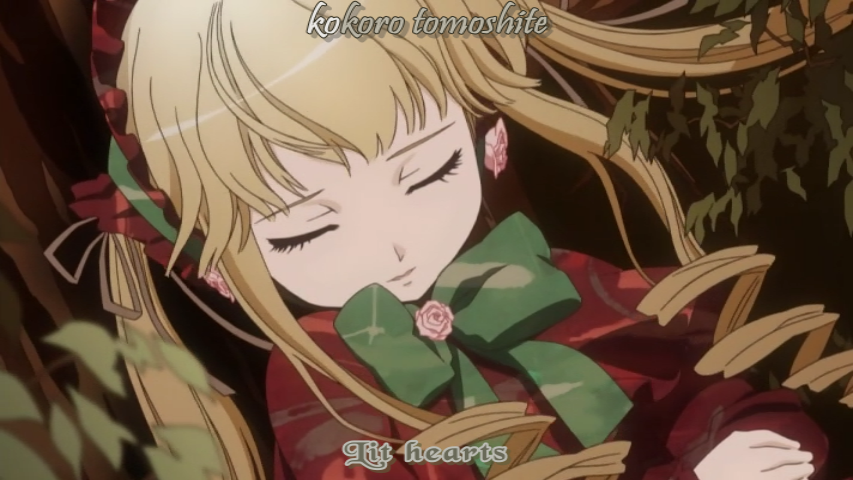 This is my first public release ever. Don't say that I didn't warn you!!

The R2 source was quite nice and a pleasure to work with. Video was almost always progressive @ 30fps, except for the OP, some of the omakes (the ones from episodes 5 and 7), some flashbacks (episode 10) and at least one preview (ep.5), which had interlacing. I've used the "clean" versions of the OP/ED, for your viewing pleasure (and to make things easier for me on the encoding side
).
Original audio was AC3 2.0 @ 448kbits, which was overkill, IMHO, so I recompressed it to a more sane bitrate, so that I could have more room to work with the video.
Overall, I didn't do much. If this encode looks good, the merit is from whoever mastered the DVD.
About the subs:
I've used
Manhole-Desu
's subs for episodes 1~7 (with small adjustments), and used
Ayu
's subs for the remaining episodes, but be assured that I've kept the same styling, so you don't have to worry about consistency.
MegaUpload links:
Episode 1: Rozenkristall
Episode 2: Enju
Episode 3: Kanarienvogel
Episode 4: Vereinbarung
Episode 5: Der brief
Episode 6: Engel
Episode 7: Teegesellschaft
Episode 8: Puppenmacher
Episode 9: Der Tadel
Episode 10: Tomoe
Episode 11: Rozengarten
Episode 12: Alice
ED2k links:
[Rockman-X] Rozen Maiden Träumend - Episode 01 - Rozenkristall (x264 vorbis) [R2 DVDrip manhole-desu subs] [46B8F6E9].mkv [367.29 MB]
[Rockman-X] Rozen Maiden Träumend - Episode 02 - Enju (x264 vorbis) [R2 DVDrip manhole-desu subs] [B847935D].mkv [315.14 MB]
[Rockman-X] Rozen Maiden Träumend - Episode 03 - Kanarienvogel (x264 vorbis) [R2 DVDrip manhole-desu subs] [72EBFB58].mkv [335.99 MB]
[Rockman-X] Rozen Maiden Träumend - Episode 04 - Vereinbarung (x264 vorbis) [R2 DVDrip manhole-desu subs] [E1D4BA00].mkv [311.38 MB]
[Rockman-X] Rozen Maiden Träumend - Episode 05 - Der brief (x264 vorbis) [R2 DVDrip manhole-desu subs] [DF130DBC].mkv [358.63 MB]
[Rockman-X] Rozen Maiden Träumend - Episode 06 - Engel (x264 vorbis) [R2 DVDrip manhole-desu subs] [C72C1531].mkv [324.89 MB]
[Rockman-X] Rozen Maiden Träumend - Episode 07 - Teegesellschaft (x264 vorbis) [R2 DVDrip manhole-desu subs] [EC4A4FCC].mkv [367.74 MB]
[Rockman-X] Rozen Maiden Träumend - Episode 08v2 - Puppenmacher (x264 vorbis) [R2 DVDrip Ayu subs] [625F0AB6].mkv [264.54 MB]
[Rockman-X] Rozen Maiden Träumend - Episode 09v2 - Der Tadel (x264 vorbis) [R2 DVDrip Ayu subs] [53F50979].mkv [309.7 MB]
[Rockman-X] Rozen Maiden Träumend - Episode 10v2 - Tomoe (x264 vorbis) [R2 DVDrip Ayu subs] [55F44876].mkv [313.38 MB]
[Rockman-X] Rozen Maiden Träumend - Episode 11v2 - Rozengarten (x264 vorbis) [R2 DVDrip Ayu subs] [9C1D2DCD].mkv [370.41 MB]
[Rockman-X] Rozen Maiden Träumend - Episode 12v2 - Alice (x264 vorbis) [R2 DVDrip Ayu subs] [F5278C79].mkv [324.11 MB]
BitTorrent (complete series batch)
Subtitle / font pack


User(s) browsing this thread: 1 Guest(s)